Physiotherapy Specialisation
Dusty Quinn
Master of Manipulative Physiotherapy, PG.DIP.MAN.PHTY, BSC.PHYSIO(HONS)
Mornington Clinic
Dusty is one of a small group of Physiotherapists that have achieved the status of Physiotherapy Specialist. In order to get the title Dusty has shown a high level of clinical expertise, leadership and ability to disseminate research.
Physiotherapy
Physiotherapy Specialist

In September 2017, Dusty achieved the Physiotherapy Specialist scope of practice.  I joined a small group of Physiotherapy specialists in New Zealand. The specialist scope of practice is awarded by the New Zealand Board of Physiotherapy.  The Physiotherapy Specialist must show that they have expert clinical skills, leadership and ability to disseminate research at a high standard.
ACC have now recognised the expertise of Specialist Physiotherapists and now ACC have added Specialist Physiotherapists to the Physiotherapy contract, taking effect in August 2019.
The Physiotherapy Specialist will act as mentors to our Physiotherapy colleagues in the region.  The clinical expertise will also be a resource to our medical colleagues and other medical specialists.
Patients can be referred for:
Second opinion on diagnosis or management
When rehabilitation goals not achieved
The referrals can be private or from a third party (ACC / Insurance company). It is a requirement that communication with all parties will be part of the service.  This will be a fully funded service.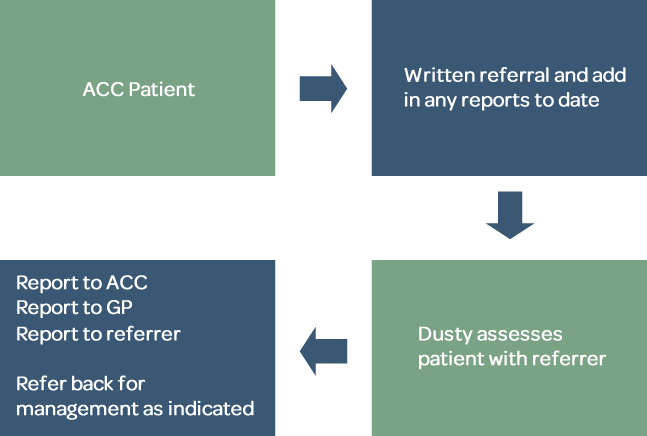 Our Contacts
Centre City (03) 474-9400
Mornington (03) 453 0523