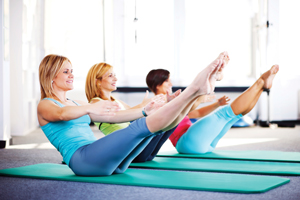 Pilates Mat Work is a low impact form of resistance and flexibility training that utilises the forces of body weight and gravity on the body to improve strength, endurance, body awareness, co-ordination, balance, flexibility, and core stability. Pilate's exercises aim to achieve an awareness of mind, body and spirit.
Back in Motion offer a variety of classes at varying levels and venues for members of the public, students, private businesses and sporting groups within the Dunedin area.
Our Pilates Mat Classes are advertised in The Star Newspaper 2 weeks prior to the class rotation beginning, on our website, on posters at each of our venues and on our Facebook Page. C&S Pilates Floor Classes are advertised at OUSA Clubs and Societies and on the OUSA website
Enrol Now for our July Rotation of ten weeks of Pilates Mat Classes from the end of July until the end of September 2017.
CALL 474 9400 or Book Online.
View Back in Motion's Pilates Mat Classes Timetable
Beginner
The Beginner Class introduces the basic concepts and founding Principles of Pilates with exercises suited to the teaching of these important building blocks. Over the class the exercises though still gentle will progress in challenge as the body becomes stronger, more flexible and the aim of each exercise more apparent. Exercises will focus on the principles of Breathing, Centre, Concentration, Control, Flow and Precision through strengthening of the core for stability and mobility of the spine, improving flexibility and developing a strong, long and lean muscle that will improve your endurance and ability to achieve every day activities. An excellent place to begin learning or to be reminded of your movement goals. You will be guided throughout by your qualified and knowledgeable Instructor.
Intermediate
Builds on the foundations established in the Beginner Class. Exercises progress from the building blocks established at the beginner level, advancing strength and stability, postural awareness and alignment, flexibility, balance, co-ordination and control of movements. This Class is developed to ensure that there is an easy progression from Beginner to Intermediate with foundations for the Advanced Class introduced and built upon through the weeks to ensure that there is a gentle progression of challenge as the body again becomes stronger and you improve your body awareness. You will be guided throughout by your qualified and knowledgeable Instructor.
Advanced
This class builds further on the exercises introduced at the Intermediate level. This class is developed to offer further progression and challenge of the exercises established at both Beginner and Intermediate level. It has been designed to complement the principles of strength and stability, postural awareness and alignment, flexibility, balance, co-ordination and control that have been established and to further build upon these, challenging the body and mind that little more utilising the improvements in your strength and co-ordination that you have already seen progress throughout earlier classes. With the help of your qualified and knowledgeable instructor, and all that you have learned and achieved at Beginner and Intermediate levels you will succeed in progressing your Pilates fitness even further.
Elite
The optimal challenge in Pilates Floor exercise. The Elite class has been developed for those individuals who are physically strong, who have progressed throughout each of the Beginner, Intermediate and Advanced levels, who have a thorough understanding of the Pilates Principles and of their own bodies and who are physically able - carry no current or chronic injury that may prevent them from participating to their full capacity. With the help and guidance of your qualified and knowledgeable instructor, you will strive to obtain perfection of the most challenging exercises Pilates Floor exercise has to offer. 
Questions? Please give us a call or view our FAQs