Back in Motion Physiotherapy and Gallery de Novo are delighted to be hosting an 'Online Art Auction' running from the 23rd October on Trademe for one week, to raise money for the PINC Cancer Rehabilitation Programme. Art can be viewed at Gallery de Novo on Stuart St, Dunedin.
All money raised from this art auction will go to fund women in Dunedin on the PINC Program. https://www.facebook.com/TeamPINC
The PINC Cancer Rehabilitation Program is dedicated to improving strength, quality of life and sense of wellbeing of women diagnosed with cancer.
It is specifically designed to help maximise recovery, regain physical and emotional strength and to improve body confidence and control. The Program is delivered by certified PINC Cancer Rehab Physiotherapists throughout New Zealand and Australia and provides a full range of services designed to care, support and guide women through every stage of their treatment and recovery.
A BIG THANK YOU TO THE FOLLOWING ARTISTS THAT HAVE DONATED THEIR WORK:
Maria Kemp, Janet de Wagt, Suzy Platt, Angela Burns, Lee Byford and Lynn Taylor.
Lee Byford
Lee is an exceptionally talented self-taught artist, specialising in portraiture. Her works are included in national and international private collections. In 2011 Lee was a finalist in the NZ Painting and Printmaking Award and in 2012 she was awarded "Highly Commended" for the Adam Portraiture Award in Wellington (the judge was Senior Curator for the National Portrait Gallery of Australia, Christopher Chapman).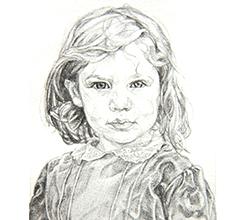 Maria Kemp
A highly successful local Dunedin artist, Maria captures the fluidity of the local landscape. Inland regions of Otago and the greater Strath Taieri are recurring subjects in her painting. Her paintings portray the metaphorical notion of the earth stretched out like fabric, suggesting a craftsman, designer or omnipotent creator. Maria identifies the earth as a garment with its patterns, folds and complex ordered design.a She has just held a highly successful exhibition at Gallery De Novo. This work is a signed, limited edition print of one of Maria's favourite views on the Otago Peninsula. The print is framed.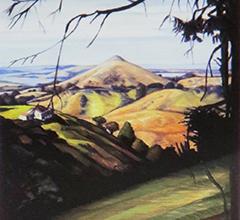 Janet de Wagt
Janet is a New Zealand born artist who has lived and painted throughout the world. Her highly expressive landscapes are readily identifiable. Painted on site in all weathers, her works capture the wilder side of the South Island. Janet also likes to experiment with different shaped works with her 'Art in Mind' paintings. She is heavily involved with teaching and promoting art and continuously provides opportunities and encouragement to groups and individuals developing skills and building confidence to enable people to express themselves through the arts. This work is one of Janet's Art in Mind works – original printmaking on shaped and painted board.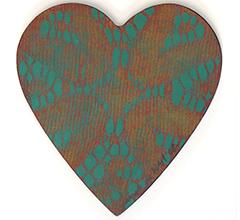 Suzy Platt
Suzy has been exploring contemporary portraiture and exhibiting in galleries for over 15 years. She has developed into a most sought after artist. Her works are predominately portraits of young girls, painted in oil on canvas/board and are identifiably unique. Suzy is from a strong artistic family and has been a full time artist for several years. This work is a signed, limited edition print – Girl with Gerberas - framed.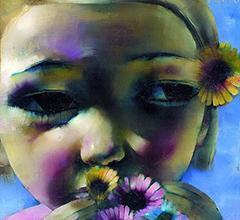 Angela Burns
Angela is a well known Dunedin artist who specialises in painting and has been doing so for over thirty years. Her art work reflects the immediate environment, local land forms and scenes in a somewhat expressionist and abstract manner. In the numerous reviews on her work, Angela's paintings have been compared to great New Zealand artists like Milan Mrkusich and Tosswill Woollaston. This is an original painting (acrylic on canvas).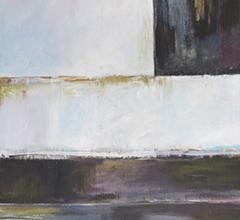 Lynn Taylor
Dunedin printmaker and visual artist Lynn Taylor lives and works from her studio on the Otago Peninsula. Lynn mixes the hand drawn with found objects manipulated to provide moody, evocative images that have become her signature. She often layers her prints with textured metal plates to give more depth. Lynn has lectured at Otago Polytechnic School of Art in print making, art theory, textiles and design and has been an artist in residence at a South Korean University. This is an original work Down At the Heads (editioned: 1/1) – framed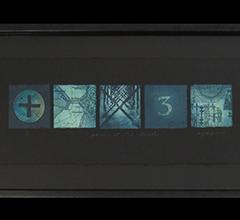 comments powered by